And now I present you with two hilarious and endearing tales of romance and Highlands – heroines of steel courage and heroes of passion – two novels from the wonderfully read Teresa Medeiros, Some like it Wild and Some like it Wicked. Since, lucky for me, the two back into each other – the end of the first butting into the end of the second, there aren't too many spoilers to be spoiled – but just the same, you are all warned – I will review the first, then the second. If you are wary – don't read the second until you've finished the first! (Funnily enough I accidentally read them the reverse order, which only made me love the first one more).
As it was, she could only bat wildly at the air as she tumbled headfirst out of the hayloft and crashed into the imposing back of the man preparing to settle himself between her cousin's pale, shapely thighs.
Some Like it Wicked
, Teresa Medeiros pg. 5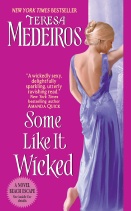 Some like it dangerous...

When Highland beauty Catriona Kincaid storms Newgate Prison to seek the help of disgraced nobleman and notorious rogue Simon Wescott, she is prepared to offer him both wealth and freedom. She never dreams the wicked rake will be bold enough to demand a far more sensual prize.

Some like it seductive...

Simon is shocked to discover the tomboy he met long ago has blossomed into a headstrong temptress. Although he's sworn off being a hero, he can't resist striking a devil's bargain that may very well end up costing him his heart.

Some like it wicked...

Catriona comes looking for a hero. What she finds is a man...
The story begins with a tomboy-like teenaged girl sitting up in a hayloft reading Scottish poetry and playing with a particularly fierce kitten. Innocent, right? Oh no, we can't have that – suddenly there is giggling and our interestingly named heroine Catriona looks over the ledge to see a soldier – all decked out in his finery – backing her irritating cousin into a hay bale, touching her all kinds of inappropriate while she giggles. Of course, that, too is much too tame for Medeiros who writes the most brilliantly hilarious and hot romances – so Catriona loses her balance and falls on the man's back, ironic since, as we switch to his point of view, we are instantly aware that he will be our heroine's hero … once they both mature a bit.
Why start with a whimper when you can start with a bang, am I right?
Teresa Medeiros launches into this book – and this series – in much the fashion that I have come to adore: she picks up the story as it is already in motion and runs with it. I think that this trait is particularly a good one, since it doesn't weigh down the narrative, and introduces us to Hero and heroine and dilemma while making us laugh and blush at once. It was brilliance.
A little about the story now: We have Catriona – the niece of an English lord and daughter of a Highland laird now long dead, who wishes only to find her way back to the Kincaid lands and reclaim them for her clan. She has a woefully missing brother (Connor, more on him later …) and a kitten-turned cat, Robert the Bruce, who will defend her with claw and tooth 'til death. And our hero is a second son, thus expendable, Simon, who wants nothing more than to forget his whole life at the bottom of a whiskey bottle, but has this insatiable desire to be with Catriona – even though she vexes him to the point of causing him to storm out to Scotland. Now, five years after the incident in the barn, Simon is in debtor's prison, and Catriona's uncle is doubling her dowry to tie her to England and keep her safely from Scotland. Unfortunately, her cousin's latest disaster of a romance, Lord Ed, is threatening not only to marry her and possess her … but to go to Scotland and ruin what's left of her home.
Of course, Catriona is no slouch – she has proud Highland blood coursing through her veins – so instead of waiting by fretting and wringing her hands, she makes her way to Newgate and convinces the desperate but honourable soldier she knew, Simon, to engage in a plot to pretend to compromise her, so that her uncle would let them marry so that she could escape to the Highlands and defend her ancestral home from the red coats. Splitting half of her sizable dowry change Simon's mind to her liking quick enough and they begin their plot.
Of course there is passion … a passion her irritating cousin discovers before screaming bloody murder and bringing all hell down on them – and yet Medeiros leaves you wishing the compromise was more than just play – the passion between the two so palatable. And their journey to the Highlands is full of ups and downs that, for me, culminate first when Catriona falls into a freezing river, pulls herself out and yells out for Simon for hours. The man, drunk and asleep, only realizes she's missing in the morning and then changes. For me, that moment when he's freaking out and she calmly asks him where the hell he's been, is the turning point of the novel from adventure expedition to home stretch, or if you will, from mere flirtations to something more. This is probably my favourite part of any romance novel – the point at which it becomes deathly serious – they will either work all that's between them out, or they will crash and burn – but whatever it is that will happen, it will be epic.
I will not spoil the ending,

but suffice to say that her clan – or what's left of it, is amazingly funny, the passions that have been hinted at through the beginning of the book explode in a grotto and the aftermath and resolutions are heart breakingly suited to the story. With plenty of laughs!
Such a well written story deserves some sort of sequel treatment right? Well …
In his twenty-nine years of life, Connor Kincaid had been shot twice, stabbed three times and nearly drowned in the rushing waters of a burn. He had survived a botched hanging and had both his nose and his ribs broken in brawls more times than he could count, But he could honestly say he'd never been assaulted by a shrieking virago wielding a parasol.
Some Like it Wild
, Teresa Medeiros pg. 18
Pamela Darby needs a man—preferably a Highland brute with more brawn than brains. Determined to save her sister from selling her virtue, the resourceful beauty requires a strapping specimen to pose as a duke's long-lost heir. Pamela plans to collect the generous reward, then send him on his way. Lucky for the brazen beauty, the seductive, silver-eyed highwayman who just held up their carriage could be her man . . .

Connor Kincaid has given up on his dream of restoring his clan's honor. And now this plucky Englishwoman is asking him to take part in a risky charade that could land them both on the gallows. Never a man to resist a challenge or the allure of a beautiful woman, Connor strikes the devil's bargain that could seal both their fates. The highwayman and the hellion journey to London as both enemies and allies—a woman who has everything to gain and a man who has nothing to lose...but his heart.
Like the very interesting opening of its predescessor,
Wild
opens up in the middle of a carriage ride through Scotland with two sisters who are very down on their luck but have hatched a scheme to get something back for all their troubles: they will go to Scotland and find the heir to a vast fortune, whose father has been on the look out for him for years. And if they can't find him, they're actresses – they will find someone who is the right age and colouring and bring him along. Prize money is prize money!
Pamela is our heroine and she is the brains behind this plot, her younger angelic looking sister (who wields a mean parasol) more of a sidekick to her master genius. Of course, she doesn't account for all those tales she heard from the last town over of highwaymen and thieves …
Enter our silver eyed hero, Connor – former sort of laird of the Kinkaids and general bad ass highwayman. And yes, he was just whacked with a parasol for kissing the girl he intended to rob. Connor is canny – or canny enough as it is, and when Pamela explains the plan, and with nowhere else to go – and oh yes, he owes her since she pretended to be his wife to get him out of a bit of a spot with the law – he agrees to be her long lost heir.
And off they go to perfect their scheme, travelling over the Scottish highlands back to England to charm the Duke's socks off. Little do they realize they've bitten off a fair chunk of a long story – and the repercussions could be deadly (cue tie-in with Wicked).
How much do I love Pam and Connor? A lot. How much do I love the fact that their love story is peppered with crazy family members, strange backstories, a bit of heartbreak and this really amazing steam scene in a garden late at night? Oh goodness, I am blushing. This story was funny and hot, and the characters were so headstrong and perfect to tell it. Medieros kept the tight quips and fast moving pace of Wicked and added a gaggle of loveable extra characters to dote (was kind of hoping for a third loosely tied Kinkaid book … trust, read it and you will know which couple I speak of).
Conor is the proud Highland beast that you get glimpses of in Wicked – but he is also the older brother, the kind gentle person who would put his family and those he loves ahead of himself every time. He is a remarkable character to cozy up to – and his ultimate decisions and sacrifices – though sometimes short sighted, are not without their merit. I especially like the scene where he admits he's been keeping an eye on his sister from afar, but dared not get too close for fear – well, too many fears to enumerate, the poor highwayman. The confusion and torment of his life is a constant struggle in the book and it is executed so perfectly that he seems too real to be contained in the pages of the book.
Pamela on the other hand is almost instantly real for me – she's the modern minded woman trapped in the confines of an era that doesn't see

her as she sees herself. She is a survivor, a canny judge of character and quick on the uptake, putting things together quickly and reacting just as fast – not content to sit around and be told what it is she should be doing. She is a remarkable woman who plans everything, and yet when she's taken by surprise she adapts instead of sitting rigid and unmovable.
Together they make a wonderful romance and their resolution ties in neatly with the preceding book so that the mysteries are solved and the characters are all placed within a family of sorts. Wonderful book and wonderful series! I highly recommend it!
Up Next to Review : Blood Shot

by Cherie Priest
Barefoot Princess

by Christina Dodd

The Temptation of the Night Jasmine

by Lauren Willig

Ransom

by Julie Garwood

Kansas Wildfire

by Cheryl Anne Porter